So Friday evening after the Internet Cafe, we ate at Wagamama, a popular noodle shop (there's one here in Cambridge, too!). Then we managed sleep a solid 12 hours - that's what happens in a very dark room with no children!
(Friday pictures:
David with Dr. Watson in Sherlock Holmes' sitting room: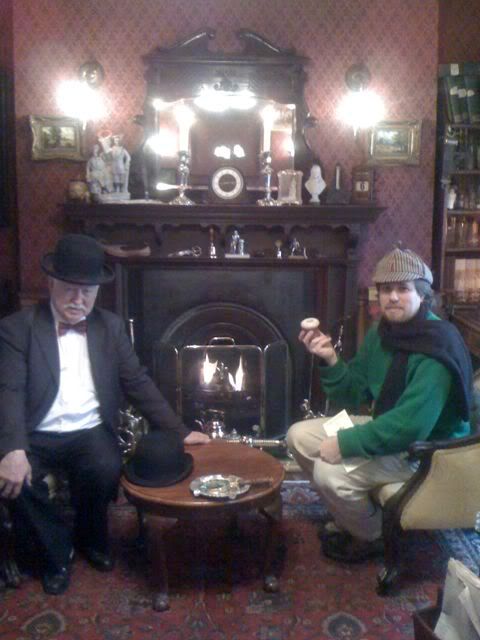 Majestic Theater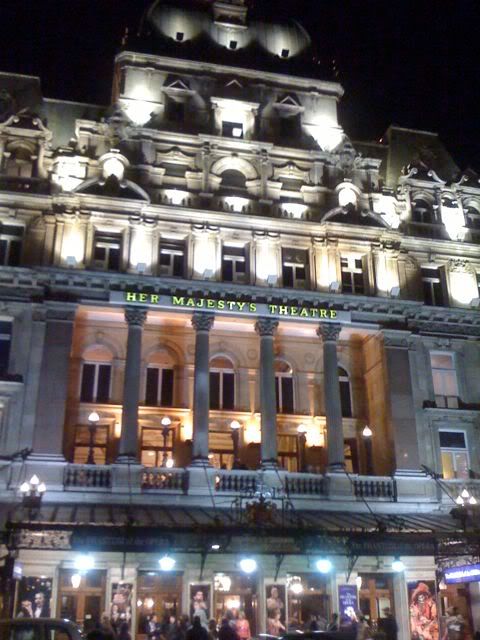 Trafalgar Square: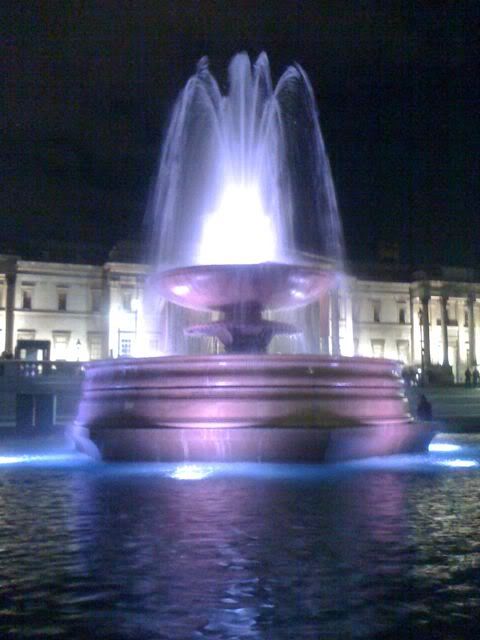 So we got up later than expected Saturday morning, and took our time getting ready and finding breakfast. Figured out how to use the free internet at Pret-a-Manger (I wish we had more of that store around here!).
Then we walked across the bridge to the south side of the river. It was a lovely, clear day: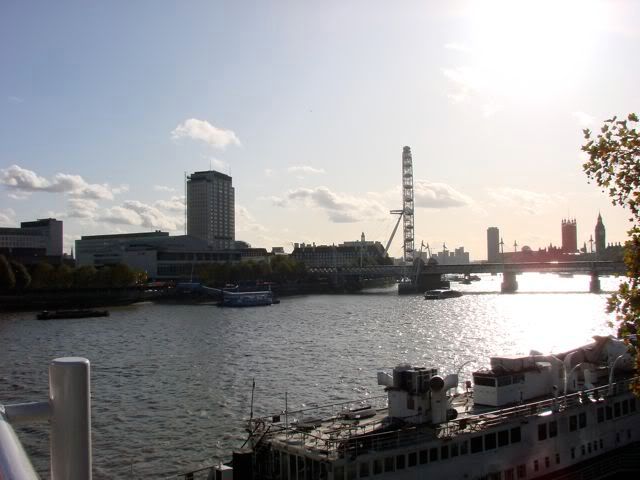 Both of us had been to The Museum of The Moving Image many years ago, and we wanted to go back. We spotted it on one map, but no one seemed to know where it was...
Finally, we discovered it had closed 4 years earlier, and the exhibits had been rolled into The Movium, so we went there.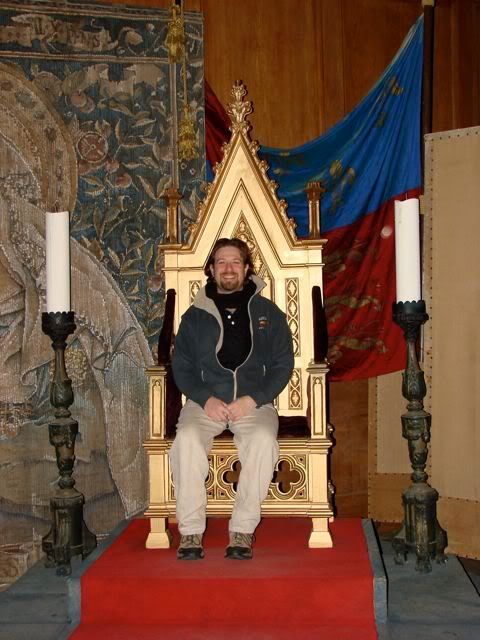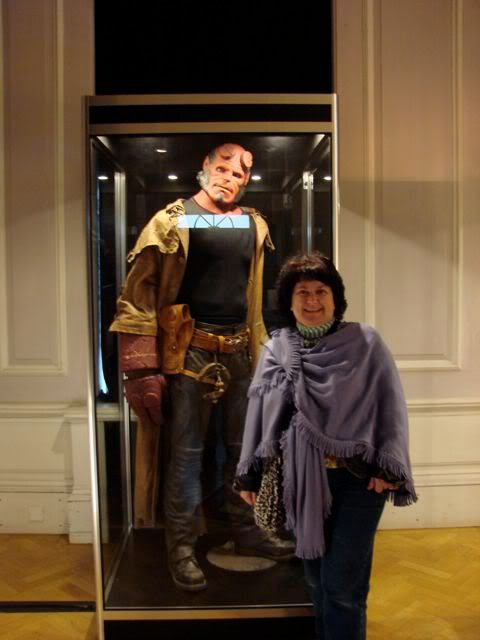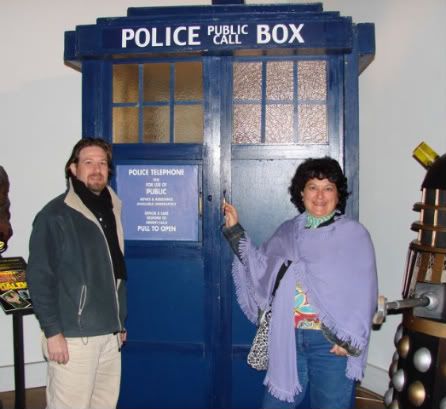 Walked back past Big Ben, meandered around town, had a lovely late lunch, returned to rest and change, and then off to the theater.
We saw "The 39 Steps", which is a hysterically funny take on the old murder mystery. Very cleverly done. 4 actors, but at least 20 characters.
Had a late Indian meal after the show, which was marred by several things: the drunk guy at the next table screaming "F&CK" over and over, the restaurant's inability to uphold their promise of "we can customize", and the overall greasiness. Oh, and the fact that I ordered a whole bottle of sparkling water and they only brought me a glass, 'because they'd run out'!
Ok, Sunday was The Event. The MPH Auto Show at Earl's Court, featuring Top Gear Live!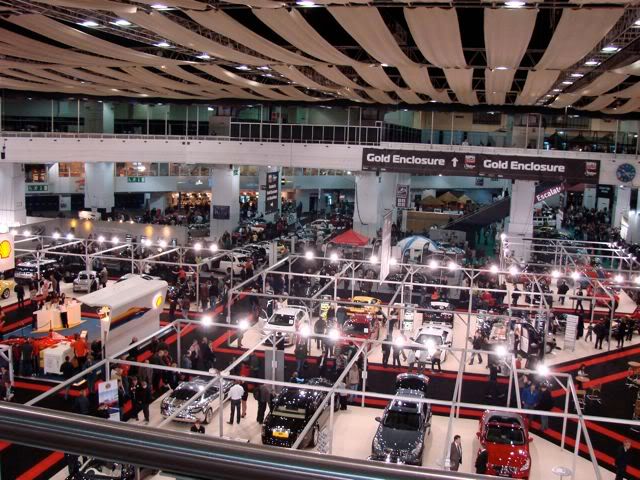 We had Platinum tickets, which gave us access to this upper section (including lunch and drinks). The show was all about sporty cars. NICE sporty cars. High End stuff.
Then it was time for TOP GEAR LIVE!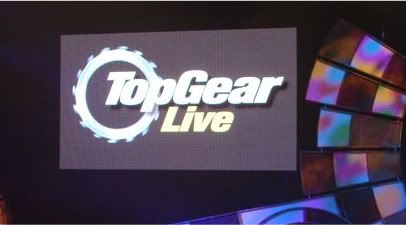 The Boys: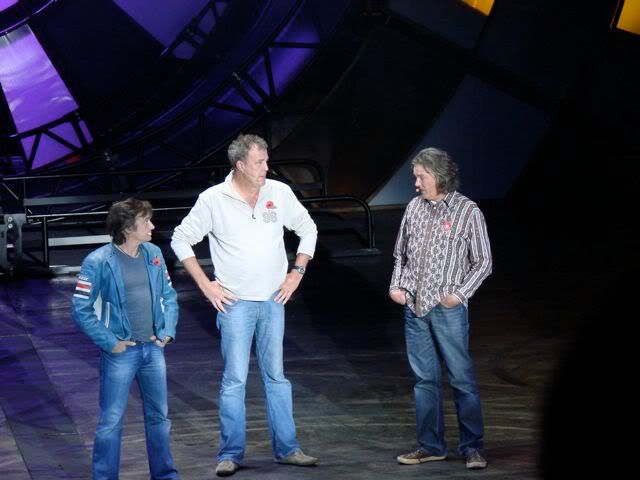 James May (aka Captain Slow)'s car: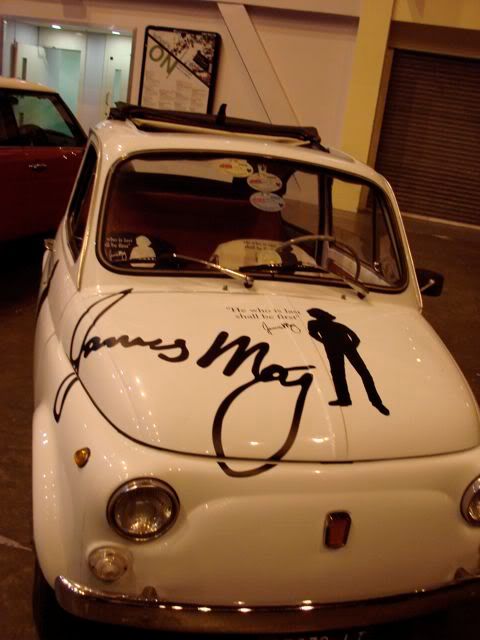 Me with The Stig (the "tamed race car driver"):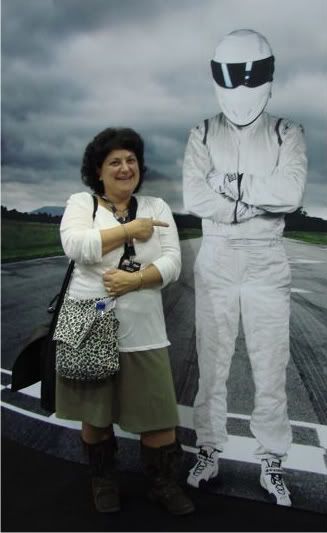 It was waaay cool. And I only wanted to bludgeon David for the first part of the day - he likes different cars than me, and he kept getting angry when I walked away to see something. Ugh, men.
Anyway, we realy did have a nice time overall. Landed in Boston at 1:20 Monday after a very bumpy flight. Kids immediately went into melt-down, and my parents fled.
Sam had no fever after Sunday, but Sofia started fever Tuesday night. Which means I've been up with her the past 2 nights, and she's home with me now. But she had to come with me this morning to my haircut, and then she charmed the nail lady into giving her a manicure:
Yesterday was Conferences at the day school. I'm thrilled to report that Sam made twice as much progress in reading as we had dared hope for on his IEP last May. They are both doing really well (although Micah continues to talk too much in Hebrew class).
And I'm off to a Girls' Weekend tomorrow, in Maine. Yeah! (Oh, yeah, I had an interesting and somewhat disturbing dream while in London. Sofia had run off, and been found by an older couple from my shul. But I kept "forgetting" to go pick her up from their house! I guess I really need a break from the kids, huh?!)