It's been a VERY busy week. I ended up getting sick last week with whatever Sofia had in Israel, so it was a very quiet and mostly uneventful last week of vacation. Micah had a great time at camp, but came home ... changed...into a misogynistic pig. Before we'd gotten all the way home, my mother had hung up on him, Sofia was yelling "Mad Micah!" and I had offered to pull over and let him walk (after he announced "I won't be helping out around the house as much any more."). Got home and fought with David and Sam. But he woke up back to normal. Whew.
Twice while he was gone, the three of us went up to school, each for different meetings. Sofia met her kindergarten teacher (and helped wash the play-food), Sam met his new reading teacher, and I had a great meeting with my new boss, the Head of School, and supervisor, the new Director of Teaching and Learning. Both of whom I've known for years: HOS used to be the music and art teacher when Sam was in kindergarten, and DTL goes to my shul.
I felt totally overwhelmed and out of my league, because they are both very learned, Judaically, but they are also both very kind. HOS gave me a great pep talk about how he thinks this is such a perfect job for me. And I met again yesterday for a long time with the DTL, and that went great.
But I have SO much to do! Have to figure out what each class learns and when, and which teachers need my help on which things. Today I met briefly with some of the teachers about it, so I'm starting to get a better sense of what is what.
Friday evening we had our Shabbat dinner as a picnic on the Natick Commons with friends. It was a lovely lovely night. And David was starting to get sick, with a head cold, so it was good to be out of the house and not stressed.
We stayed home most of Saturday - I actually went to shul by myself, which was wonderful. In the evening, we did go up to Stow to my friend's house for a nice party. It was good to see people.
Sunday was the Tropical Storm (by us; Hurricane elsewhere). We did not have any damage other than lots of branches. A tree from next door fell right across the front of our yard, stopping exactly at the edge of our driveway.
The power went out around 11am. I worked frantically on my laptop until the battery ran out. I wanted to start getting the
tefillah
curriculum in order.
Poor Sofia did NOT enjoy having no access to her movies! She spent most of the day saying "Watch TV?", and then decided to dump all her toys on the living room floor: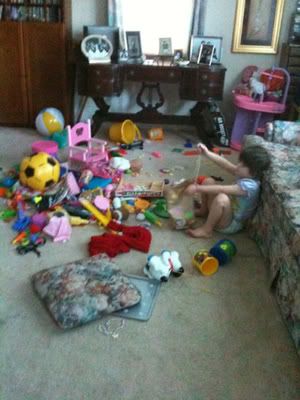 We did not get power back until around 10 am on Monday, so I spent the night listening to items in my freezer melt, but actually we did not lose much. The freezer was packed tight, so things did not melt badly.
Monday, I dropped the boys at a friends' (they all went tubing down a hill!) and Sofia at a sitter's house, and then went to school for my long meeting with the DTL. (Actually, the sitter was her daughter, Emma. And they have two cats. This will be an important detail later...)
In the afternoon, Sofia made a big pile of sticks in the front yard, from all the wind-blow. She had a grand time.
Today was the most exciting day: Kindergarten Visit! Actually, since Sofia is going to two schools, she'll do this again tomorrow. But today was at the day school.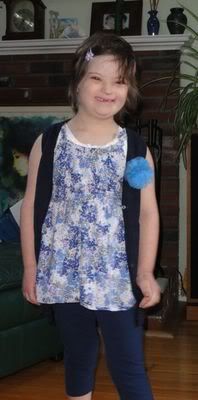 She was SO excited this morning! We ended up getting to school early ('cause she dragged me out of the house), and when we got there, she made a bee-line for the Learning Specialist's office. And shoved me out the door with a stern "Bye, Mama!". The LS wasn't ready for her yet, so I hung around and annoyed my daughter, but eventually it was time. They had half the class come at that hour and the other half the hour before. The kids went to the classroom, and the grownups talked with the new HOS.
The nurse visited the classroom (and I think did the nit-checks), and I saw her in the hall. "Oh, Sofia was telling me all about her cat, named Emma!" Despite the confusion, I was so proud that my daughter got that much information out on her own.
The boys stayed home alone for the morning - I love being able to do that! 12 year olds can be pretty darn annoying, but that's surely a plus.
Sofia went to her friend G's house for a playdate, and I put on my teacher hat to do some work for a while. Then picked up Sofia, picked up an extra kid for a playdate with Sam, and came home.
And had an anxiety attack.
Multiple pressures:
- School is starting tomorrow
- I am starting to teach tomorrow! and I feel not so ready and very overwhelmed. And it did not help that so far I have not been "announced" with the new teachers, so I sort of feel like an imposter. It happened during the parent time this morning; all the "new staff" were introduced, but I was not mentioned.
- David is away for a few days, and...
- the driveway is getting redone tomorrow, and...
- his new "toy" is arriving tonight (a sports car - I don't want to talk about it. Suffice it to say, he's in his mid-40s.)
- October 22 is looming.
October 22? What's wrong with that?
Well, remember my friend N, whose husband tragically ended his life last April? October 22 is their son (Sam's best friend) 's Bar Mitzvah.
And it's also the date of my grandmother's 100th birthday party.
In Florida.
Up till now, my parents have fully supported that I should be at the Bar Mitzvah. Sam and I both committed to read Torah, and N keeps repeating how important our family is to them and how we have to be there.
Well, someone did not give me a chance to explain to my grandmother why I would be missing her party. Someone just told her "Francine won't be there because of some bar mitzvah."
Of course, my 99 year old grandmother was miffed. "I'm not important enough? I only turn 100 once, you know!"
I tried explaining over the phone, but 1) she doesn't hear so well, and 2) she'd already decided to be miffed.
And then my parents changed their tune. And my father called to tell me how upset he was, and that it would be enough if I just flew out after the bar mitzvah service and got to the party late. Nope, we ALL have to be at the party, at 6pm. In Florida.
So now I have to weigh two very hard things:
The RIGHT thing
vs.
Pleasing my family
Honestly, I start hunching over in pain whenever I think about this. Which is why I went in to a full-blown panic attack this afternoon.
So enough about that. David's "toy" is going to arrive in about 20 minutes. I have to go figure out what I'm going to teach Micah's class tomorrow (because their teacher has to go to her mother-in-law's funeral - in Florida - tomorrow, on the first day of school, so I have to go in for what will be my "normal" time slot with the class). Which means Sofia is starting MWJDS tomorrow!!! (And she had public school Kindy Visit in the morning!).
Here are the gorgeous pictures of Sofia playing with the sticks, and of today's event.
Oh, and a
cool article about Dyslexia.