I was privileged to have dinner with 4 wonderful ladies tonight. We all used to work together at Stratus Computer many years ago, and we have stayed connected ever since. In fact, the entire IT department stayed connected - we still have yearly get-togethers - but these ladies were part of my particular TEAM, and we were all very close friends. So once in a long while, we manage to have dinner together.
It was wonderful to see everyone. Even though we don't see each other often, we are still very connected to each other, and it was great to get updates about everyone's families. Our kids range in age from Sofia to grown-ups with kids of their own, so our daily experiences are all vastly different - and yet mighty similar.
So here is The Gang: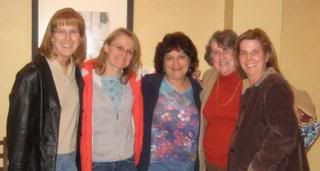 This weekend, my family all attended RE's Bat Mitzvah. It was so lovely. She had an afternoon service, and then a very very sweet party at the shul. We had dinner first (and when it came time to do Motzi, the blessing over the bread, whose voice should come over the microphone but Micah's!), then I led Havdalah and then there was a DJ and dancing.
Apparently all my children are Party Animals: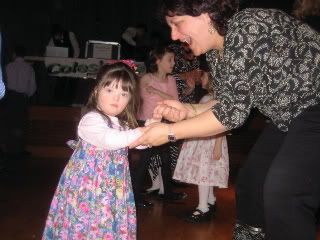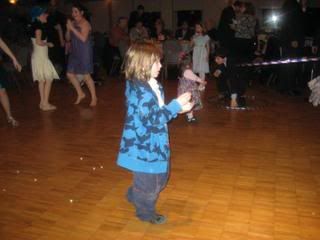 (yes, he wore his sweatshirt most of the night)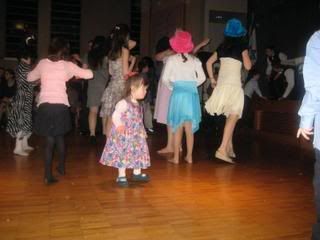 Sam doing the "Clap under Your Knee" dance:
It was a lot of fun! And we were there until 10pm!
Sunday we all went into Brookline for Kosher deli and a lot of pre-Passover shopping at the bookstores. I finally found the right kind of stuff to use in my Shabbat "oil" candles - it's liquid paraffin! Got some books for the kids, too.
And I have a New Downstairs Bathroom!!!! Thursday the contractors arrived, and they have just some minor touches to do tomorrow. We got a new floor and new vanity (when the house was built, the large vanity that should have gone upstairs was mistakenly put downstairs, taking up most of the bathroom). It's so nice! I'll post some pictures when I get all the fine-tuning done on the decorating.
I'm out every night this week - dinner tonight, meeting another friend tomorrow night, school Wednesday, and representing MDSC (Mass Down Syndrome Congress) at a conference about Disabilities at the JCC on Thursday.
Fortunately, everyone is back in school. Sofia still wheezes, but is otherwise fine. I took her to see the Endocrinologist today regarding her Thyroid levels. We are just going to keep an eye on it for now, since the level was just barely elevated. We'll go back in early August.