Friday March 21, 2008 is two holidays this year:
Purim started tonight. I ran a successful dinner for 160 people (everyone was happy except the family who showed up 45 minutes late and were upset that there wasn't a lot of food left). Then we had the Megillah readings (book of Esther). David and the kids went to the big loud event in the sanctuary, but I always go upstairs to the Adult service.
Usually I read Chapter 6, but I woke up this morning with NO VOICE! None. I've been straining and squeaking all day. My throat is killing me. So in a last-minute solution, I followed along in the scroll and acted out the story, while my "voice" was provided from L.A-P. - I only wish my voice sounded that beautiful every day!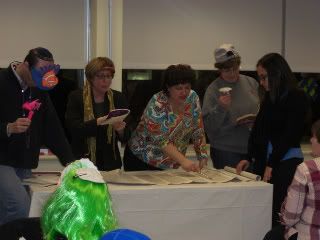 Friday there is another Megillah reading at the boys' school, and then a big Purim Party there. Should be fun. I have my kids, plus I think one extra (my friend M's daughter, who will be in kindergarten next year).
Friday is also March 21 - also known as World Down Syndrome Day! Why? Because most cases of DS are caused by Trisomy 21, which means there is an extra copy of the 21st chromosome, causing 3 pieces instead of the regular 2.
So 3/21 is World DS Day. Celebrate the people you know (or even those you don't) with that little something extra!