I really do love the Fall holidays. Rosh Hashanah, the celebration of the New Year, with its promise of rebirth and renewal. Yom Kippur, solemn and joyful at the same time. Sukkot, the harvest festival, with the fun of putting up and decorating a sukkah and maybe even eating in it. Simchat Torah, raucous dancing and rejoicing in the gift of the Torah.
But, MAN, am I tired!
They just come one right after the other. The boys had 4 weeks of very short school weeks. There's no continuity, no "regular schedule". It's just nuts!
So now the holidays are over, and we can breath, and return to (or start on) "normal".
Of course, this year it was even more difficult because the kids were all sick, so there were even more missed school days. Sofia ended up missing again on Thursday, and I took her to the pediatrician. Finally, antibiotics for sinus infection and bronchitis. I'm pleased to say that now she is doing great (and her appetite has returned - this afternoon she has been an eating machine!).
So Thursday night we were at shul, Friday I sent Sofia back to school but took the boys to shul. We had to leave "early" - 12:45 and we were just getting to the Haftorah - in order to get over to the other synagogue to prove to the rabbi that we knew our Torah readings for the Bar Mitzvah on Shabbat. So we had to stop and get some lunch (we were starving!).
It was nice to have a private moment with Nicki and the kids, because the Bar Mitzvah was a whirlwind. It was wonderful. Not too sad, just a couple of mentions of Max's dad, but mostly a joyful celebration. Max did great (so did Sam, who also read Torah).
Reception was right after services, at a hotel in Waltham, so Sam went on the bus with the other kids, but Sofia and Micah came with us to the cocktail reception.
Sofia was in a bit of a mood: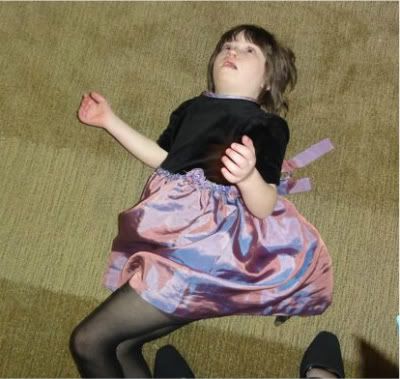 And did not want her picture taken with me and Nicki: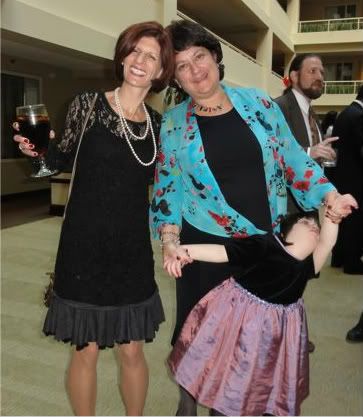 But Micah looked sharp: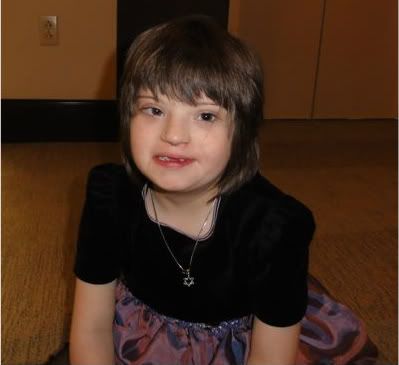 Once we went into the main party room, Sofia was able to accessorize better: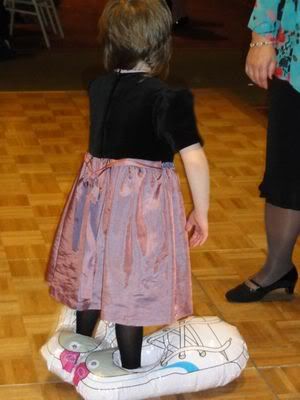 David looked sharp as usual: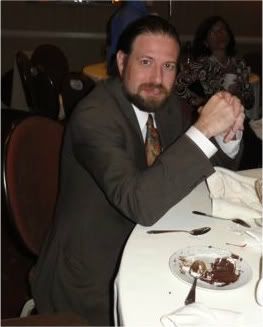 Micah and Gavi and another friend rocked out on the dance floor: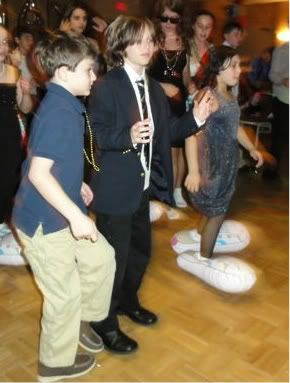 And David and I got decorated as mummies by a variety of children: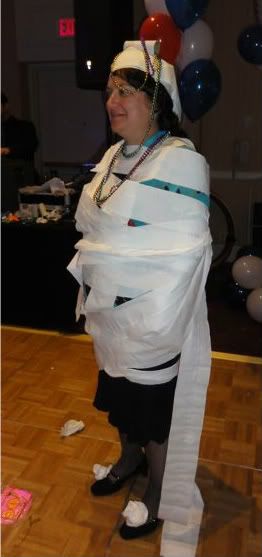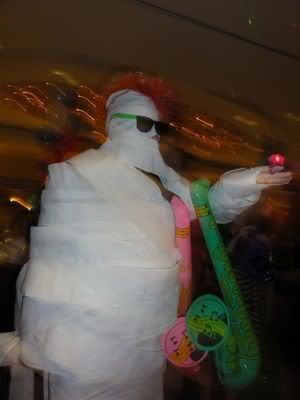 It was a really nice day.
I'm glad I went, but I am still sorry I had to miss my grandmother's 100th birthday party. I'm on the phone with my mom now, getting all the details - it was a great party.
In the evening, David and I went out to another birthday party, for my friend, while our old nanny babysat the kids (which made the boys very happy).
Sunday was Micah's birthday party! Sofia was also supposed to go to another party, but it was at Chuckie Cheese, and with the sinus infection and bronchitis, I didn't think that was the best place for her. So we sent Sam off to see Shear Madness with the USY group, and we got everyone set up in the Cole Center in Natick, just a little rec center, for a facilitated gym party.
Perfect. 23 kids and plenty of activity and running around. They had a blast.
The Crew receiving instructions:
Micah had a blast: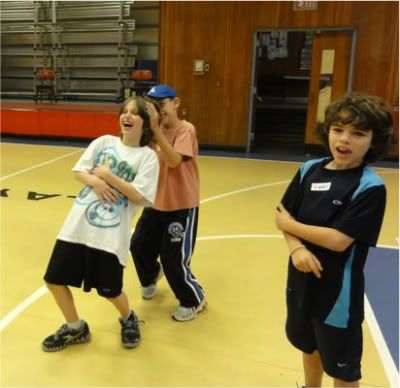 Dodge Ball: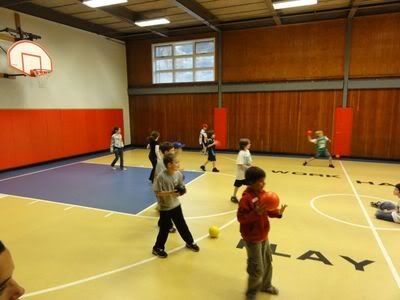 After cupcakes, back into the gym for football: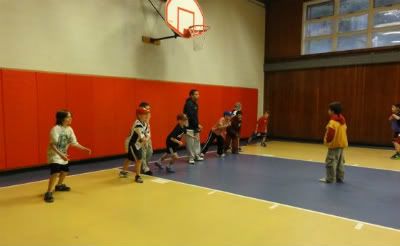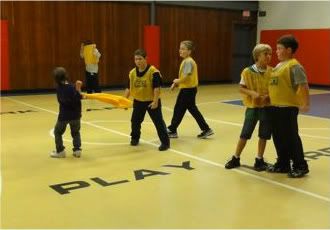 Sofia took the ball: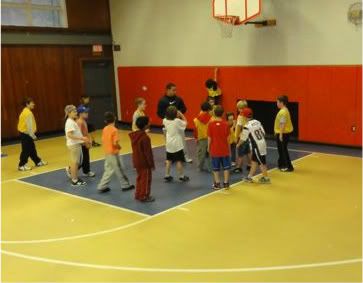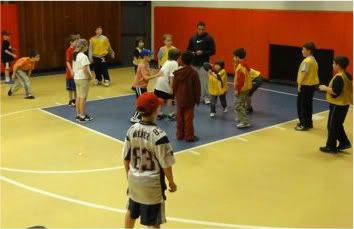 And then took a break: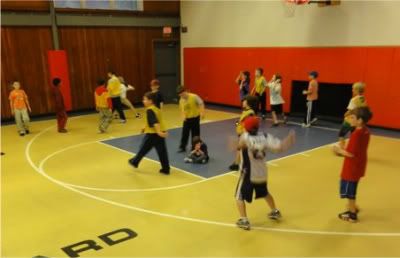 Whew. Glad that's over. And I can't believe Micah is 10 years old today!!!!
David is in the UK this week, there are no holidays, no one is too sick to go to school, and life is returning to normal. Finally.
----
And I finally got thru to my grandmother, who has been running around with all the family down there. Nothing like asking a 100 year old woman how she's doing and hearing "Oh, I'm a little drunk right now"!