Such fun. It was a lovely weekend, ending with a fantastic party.
Friday evening, D and her daughters at our house for dinner. Shul in the morning, "Synaplex", where we have multiple options for prayer and study. I went to Torah study first, and then got the be the Gabbai (the person who assists the Torah readers) for the school service.
David took off for England in the afternoon (boo hoo), but Laura and Lilie came up in the evening, so that was fun.
Sunday morning, it was fun watching Lilie and Sofia together. The two girls wore their tulle princess dresses, and we all went to the Purim carnival: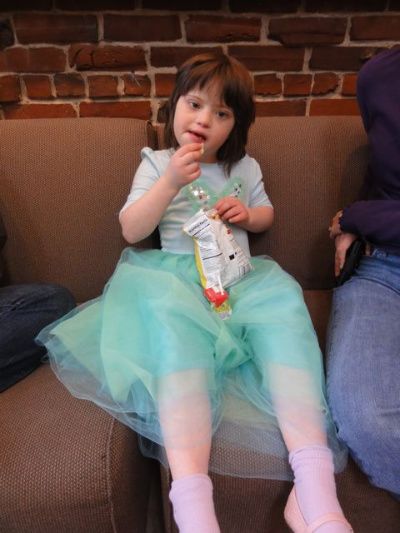 After the carnival, we went in to Brookline, to use my expiring-tomorrow Groupon for Rubin's, the kosher meat restaurant. However, the Groupon is not valid on Sundays. But they gave me the credit for the amount I'd paid for the Groupon. Just didn't get the deal. But had a yummy lunch.
Came home for a little while, and then off to the party. Same as usual, at My Gym where she has her gymnastics class. We got the 4:30 - 6:00 time slot. I invited all the kids in her day school class, but only the girls from the public school class. We ended up with only about a dozen kids (only two boys, and my boys were each assigned to one of them), but it was just lovely.
The best best best thing was right at the beginning of the party. The teacher, Mr. Dave (an absolute Pied Piper - see the videos below) had the kids sit in the circle, and at first they all sat near him. But the instant Sofia sat down, on the other side of the circle, all the girls RACED over to sit with her!

It meant so much. Sofia doesn't talk about individual kids at school, so we don't really know how her friends think of her. It was so nice to see them vying for a spot next to her.
The dancing was pretty wild: