Well, that was a busy week or so...
It's Sunday night of Labor Day Weekend. I can see now why I blog better when we travel: I have more time!
Ok, the first few days home were just a blur. Sofia and Sam kept me awake until after 5am the first night, so it really took a while to get back on schedule. Lots of sleeping at odd hours. Fortunately, we had a lovely Shabbat dinner at D's house.
Last Sunday, I think I was finally back in the right time zone. The kids and I drove up to Biddeford Pool, Maine, to spend the day at my friend H's beach house. Fun fun fun!
Sofia loves the sand and the water:
Sofia and G: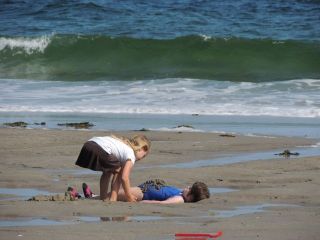 Meanwhile, Micah and B dig a hole: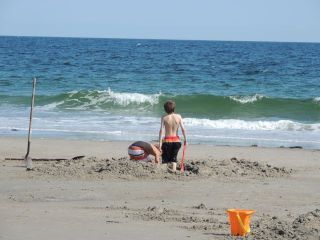 But the highlight of the day, for the kids, was The Boat. My friend's husband had spent the summer working with their son B and nephew to build a boat from scratch, out of materials found in their garage. The task that afternoon was to transport the boat down to the launch area, several hundred yards down the road.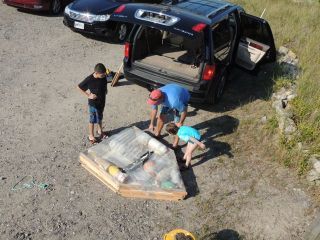 It took C and the 6 kids about 45 minutes to figure it out, but eventually they got the boat on the roof of the van and down to the water. Then everyone got a ride!
It was such a nice day. We got home late, around 11 pm, and I had too much coffee in order to drive that far, so I was awake much later.
But we still got up early again the next morning, and this time headed south, to Sakonnet RI, where another friend has a beach house (I love these family homes...)
S's son, who is Sam's age, wasn't there, but her daughter, a year younger than Micah, was there, as was of course S's mom, whom I adore. I've been visiting there since right after college, and it's really special.
The kids had a blast jumping waves: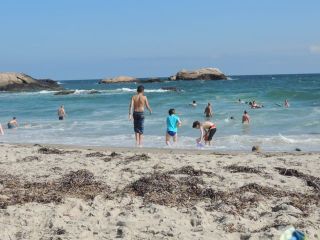 Terrified me. The undertow is very strong there, because of the way the cove is shaped, so it took a lot of energy to keep Sofia from floating away, especially since she has NO FEAR.
Whew.
Tuesday was a somewhat relaxing last day home before school. Micah had a couple of friends over, and Sam had an orthodontist appointment. We also stopped by the public school so Sofia could meet her teacher and see her new classroom - which is STILL in the same hallway she's been since she turned 3!
In the evening, Micah's friend's mom took the boys to laser tag and bowling, and they did not get home until 9pm. It was nice for Sofia and I to have the quiet evening to get ready for school.
Sofia was so excited! She even packed her own lunch (although I had to fight with her to leave it in the refrigerator over night).
So, Wednesday, bright and early, First Day of School!
My First Grader: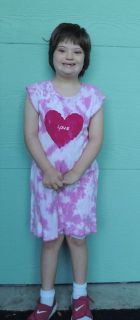 My Fifth Grader: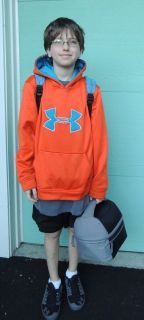 And my Eight Grader: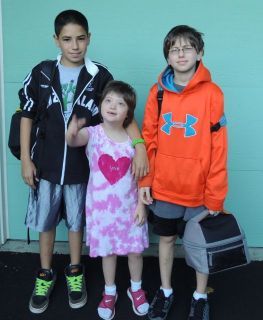 Sofia went to Breakfast Bunch at the public school no problem. The boys were excited to see their friends, but nervous about being in a new building (MWJDS finished leasing Framingham' Juniper Hill public school building, and this year we are renting space from Temple Beth Am).
First day is still a blur - I know I had coffee with friends, then a meeting with the Head of School. This year I will be doing some teaching/tefillah coordination, but also more Web work. So I worked for a few hours. Then went to the gym.
Picked up Sofia at 3pm - she had a great day, but was very tired, and grumpy. Growled alot, which I really can't stand.
When we got to MWJDS, one of Sam's teachers was already outside getting ready dismissal, and she gave me an earful about my son. Apparently he did NOT like the homework contract, and slammed it down and refused to sign it, and it was downhill from there. UGH.
When the other teacher came out, she also told me how he'd behaved.
On the whole ride home, he RANTED. All sorts of complaints. Most based on fantasy.
- "They promised us we'd be in the new building [on property the school purchased years ago] by 4th grade!" [well, kid, there IS no building yet!]
- "We have to use a bathroom pass! Public School doesn't need a bathroom pass!" [Uh, yes they do]
Lots of complaints about being mixed with the sixth grade class (the two teachers will split between 6th and 8th grade, and the two classes will do non-academics together; there is no 7th grade).
And the homework thing was way over the top.
I was shaking by the time we got home. Got the boys settled, took Sofia off to her gymnastics class. Had a long phone conversation with Sam's teacher. Came up with a plan. Got home and gave him a very serious talking-to.
Thursday morning, Micah got a ride to school with another family, and after I dropped off Sofia, Sam and I went to the public school. I met with the sociologist while he had his reading group and then he had his other group. [trying to keep my son's issues slightly more private as he gets older, but basically, he gets support from the public school.] It was good. Very useful conversations.
His teachers said he had a MUCH better day. And they appreciated the apology letters I'd had him write.
Whew.
Ok, so Thursday 12:35, I pick up Sofia to bring her to MWJDS. When we got to the school, first stop is always bathroom. Her new aide was going to then take her down to the learning specialists' office to review schedule, but Sofia spotted her classmates, and went right in to the classroom. Took her place on the rug, and participated like she'd never left. It was a fabulous day.
And I'm pleased to say her new public school teacher is also all in favor of this split-shift. It's really good for Sofia.
(A side story to illustrate how good: this morning, Sofia was helping as Sam and I cleaned out his dresser drawers. She reached in, and said very clearly "Tallit" as she pulled out a tallit katan!)
Friday, Sofia did not have school (public had an extra long weekend), so coffee, gym, and then I took her to Children's Hospital satellite in Waltham for her very tardy blood draw (I think we were supposed to be there in April). She was so funny: most kids take a stuffed animal with them. Sofia brought her water shoes.
She does NOT like blood draws (as expected), and yelled at the techs and me when we were done. Held her arm behind her back for several hours, and is still showing off her boo-boo.
We picked up the boys, and went off to meet my friend N and her kids for a swim at another friend's pool. Then back to N's house for a while, and out to dinner. Poor Sam: they put a kiddie menu in front of him. Not cool.
Saturday morning, Bar Mitzvah for Sam's classmate. Great service, and Sofia sat on my friend J's lap, playing with J's scarf, for an incredibly long time. (Up until now, Sofia has been afraid of J, because once I put her in J's car when I had to run into school, and she's been scared ever since).
Rested and relaxed at home after lunch at shul (not our shul, the one with no babysitting, which is why Sofia was in services the whole time). Then babysitter came for Sofia, and I took the boys (and my "extra" child, Sam's other male classmate) to the party.
Great time: my rule is that Sofia can come to afternoon parties, but I'll leave her home for evening parties if I can. Much easier on me. D's husband wasn't there either, so we were each other's dates. Nice to be with my friends, all dressed up. Great DJ, fun party. Didn't get home until 11:30.
My "extra" child is actually now spending the rest of the weekend with us. He went home last night (J drove him), but I picked him up this morning. I took the 4 kids up to Rockport for the afternoon. Nice day. Getting food into them helped the moods lighten. Sofia got grumpy again when I made her stop throwing rocks into the water (after 20 minutes of throwing). She also insisted on climbing the rocks.
Got home around 8pm, fed them, got Sofia to bed, watched the newest Dr. Who with the boys, and now going to sleep. WHEW. I think canoeing tomorrow...
And DAVID is on his way home!!!!!