(Note, if the photos seem too large, please reload your page - I spent a lot of time resizing them!)

Sofia has learned to:
- "swim" with her head under water for extended periods of time (making Mommy a bit crazy)
- screech when she is annoyed (making Mommy a bit more crazy)
- seek out her own food from cabinets and refrigerators (further contributing to Mommy's insanity)
- ride her bike, most recently around the rental house - the INSIDE of the rental house (Did nothing to help make Mommy saner).
- stay up very late without taking a nap (really really making Mommy nuts).
- Eat nonstop. (I'm not thrilled...)
Sense a theme?
But as much as she's driving me over the edge, I am just so enthralled with every step she takes at independence. She's gotten so "big" recently. Watching her in the pool tonight (hotel outside Washington DC - after 8 hours of driving!), I was astounded to see her standing on her own, swimming under water, and being very independent.
She is also getting very willful. A little while ago, she got angry at me because I would not give her anything else to eat (she'd already had 2 cups of pasta, a bag of cucumber slices and a piece of pizza - and she's not supposed to have wheat!). So she marched over to the hotel room door and started opening it! The only way to stop her is to slap her hand and speak very sharply, at which point she scrunches up her eyes and folds herself into a ball on the floor. I put her to bed. She has this whole "if I don't look at you, you don't exist" thing going on...
In the car, she was "singing" her songs - for a while I had some Singing Times songs playing on the iPod, and she was singing and signing along, and vehemently protested the quieter songs (nothing quiet and soft about my girl!).
So.
We are on our way home from
vacation
traveling with children. Boat ride Thursday was lovely. The boat was a little catamaran. Captain was a year out of college (WPI, David's alma mater, so they had an interesting little conversation). He was young and not very outgoing, but polite enough.
We went around the bay, and stopped on Shackleford Island to swim on the back for a bit. This island has a ton of wild horses, left over from a Spanish shipwreck.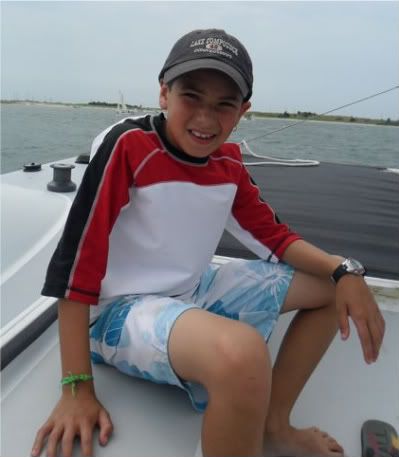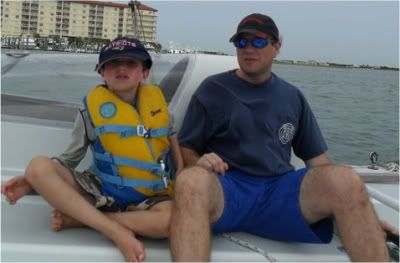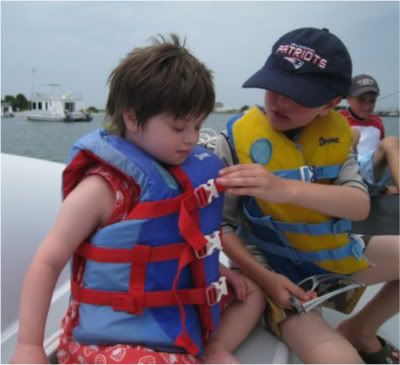 Swimming: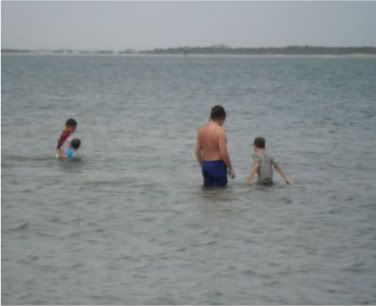 From the water, all you could see was a tiny stretch of beach, nothing behind it. Very cool: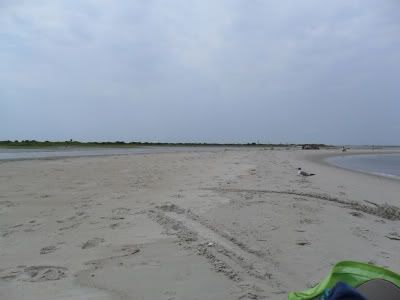 Sofia was done and tried to wake up the captain: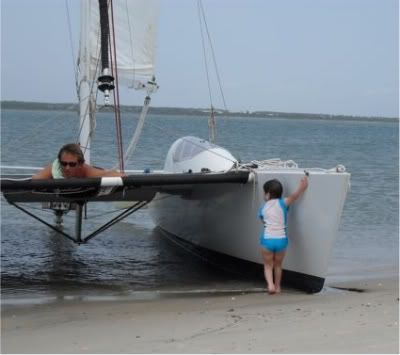 Momma relaxing on the front of the boat: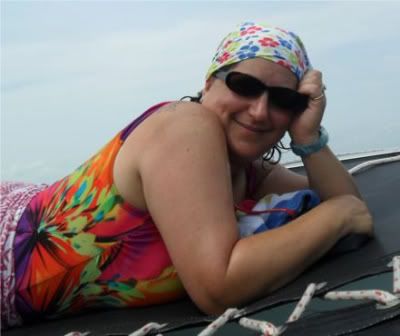 Thursday night, we went for a nice bike ride. Emerald Isle has a bike path, but it started several miles down from our house. So we drove the car with the bikes down to the rec center and parked. Rode to the end, had a nice dinner, and biked back. It was getting dark by then, so Sofia and I went back to get the car, and then I kept meeting David and the boys along the trail until they got to the end. By then it was very dark, so we all drove home.
Friday, we relaxed, swam, and packed. In the late afternoon, we drove back to Beaufort for the Pirate Invasion. Micah fell asleep in the car: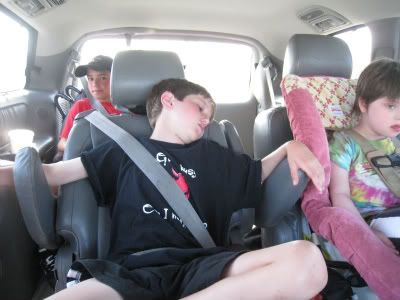 The Pirate Invasion was...small...but serious. They have a lot of historically accurate information about pirates. The boys were shy about talking to the pirates, but eventually they did: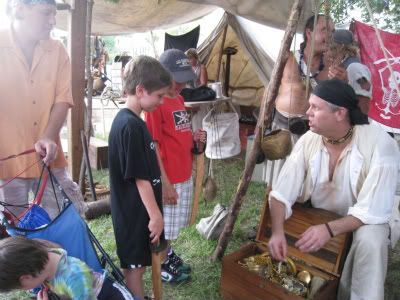 Sofia, however, wanted nothing to do with pirates:
But said "bye bye pirates" and waved, without turning to look at them.
On the way home, she was very clear: "Sofia, princess. Mama, queen. Dada, prince. Sam, Micah, pirates!"
In the evening, we wanted to go for another bike ride. This time, we decided to park down at the end, where we'd eaten the day before, and then bike towards town and have dinner. We also had to stop to get out henna refreshed.
So a nice bike ride...with an overcast sky. Sofia loved her fish taco: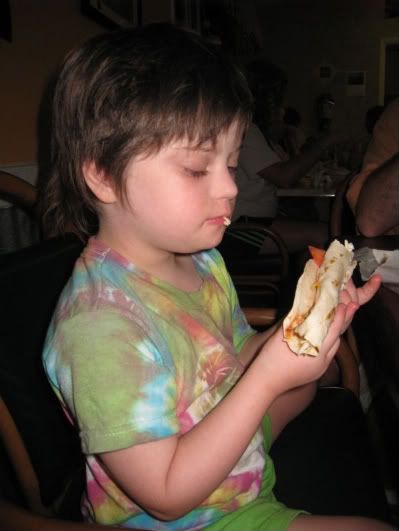 But while we were eating, the sky opened. Wide. It POURED. We biked a block back to the stores, and found a nice wide porch to stay under. But the rain showed no sign of stopping. Eventually, David opted to ride back in the rain and bring the car back for us. Sofia was freaked out at first (it was late already, after 9pm), so we went into the store, but then we had fun waiting on the porch:
Micah's shirt says "G-d is busy, may I help you?"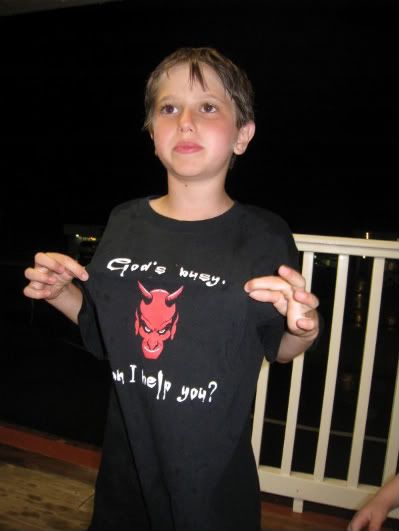 We were completely drenched. But it was fun, and at least the rain was warm.
Today we packed up the car and hit the road. And drove. And drove. We took 95 this time, and it took us 8 hours with only minimal stopping to reach Herndon Virginia. Tomorrow, a little walking around DC before the rest of the drive.
I have to go get the laundry. I've done more laundry on this "vacation" than I usually do in a month! But I was glad the hotel had guest laundry. We all went swimming when we got here, and some of my children had gone through more than the allotted supply of clothing...