Apparently they really are. Tonight at dinner, David and I both stressed because 1) Micah would not sit down (because his pants were wet from the bumper boats we had gone on right before dinner), and 2) Sofia was ...being Sofia...and 3) they were all (what we thought of as) loud. I shuffled Micah and Sofia outside as soon as we were done eating, but when David was paying the bill, both the waitress and the hostess told him our kids were SO well behaved, they had hardly heard a peep out of them.
Either the ladies were being very polite, or the majority of children are not nearly as quiet! Yikes.
This afternoon was also interesting. The place we are renting is a duplex, and the folks who own the other side are also in, with their daughter and her 3 kids, a girl aged 3, and boys ages 8 and 10. Yup, perfect. All four boys spent most of the morning in the waves together, and of course MIcah and the 8 year old got along great. Micah makes friends very easily.
But after lunch, the kids came back up to the house, and Micah went next door to play. And then came back not long after, wanting to withdraw. "Mom, they weren't very well-behaved. They said the S word ["stupid" is a BIG no-no in our family], and the mom yelled a lot and they yelled at her." He was somewhat appalled. I was secretly thrilled and proud of him for making the choice to remove himself from an uncomfortable situation.
So. Despite Micah's inability to NOT have the last word, or Sam's inability to follow any helpful instructions, or Sofia's inability to go to sleep when we want her to do so, we are having a somewhat relaxing time here. We have not done too much - beach each day, plus a trip to the Aquarium, a ride into Beaufort, and some shopping at the beach stores on the island.
Sunday, the boys and I got something special: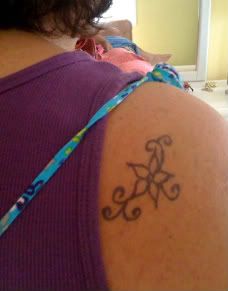 (Ok, they are only henna, will come off in a few weeks. Micah got a NY Yankees logo on his ankle!)
And today Sam got something else: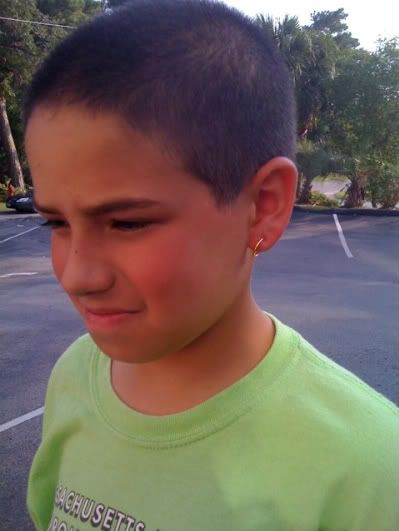 (also fake - but oh, he looks so handsome, I think he will really have his ear pierced before his bar mitzvah!).
Here are picks from our dinner on the waterfront (with the waitress who totally "got" Sofia):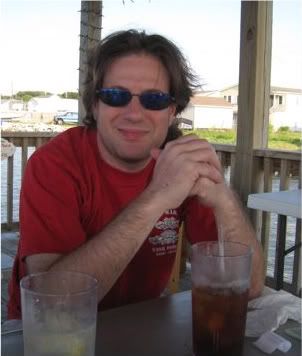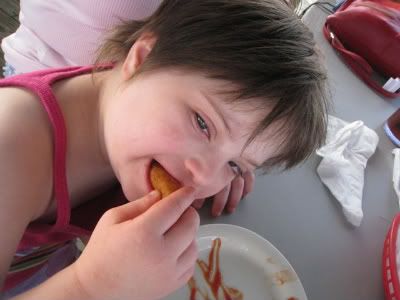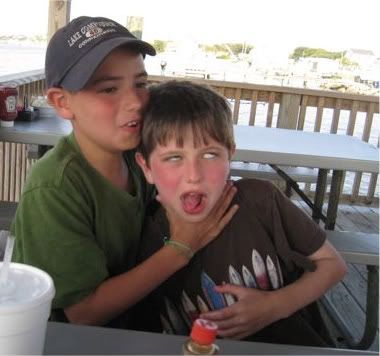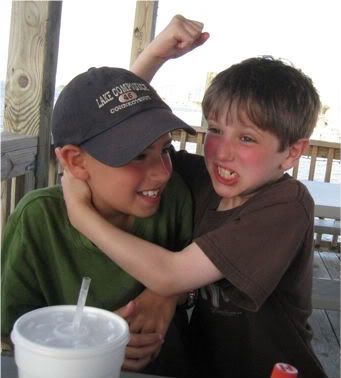 And at the Aquarium, Sofia wanted to sit up close to the sea otters, so she did a perfect split in front of the window!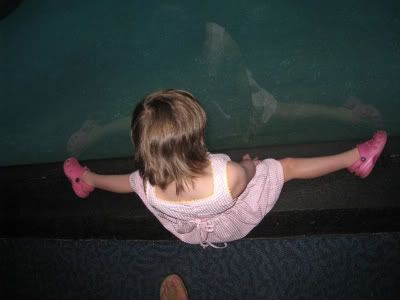 We stopped at the Fort on the other end of the island, and in the store, Micah and Sofia played checkers - with Sofia's rules, of course: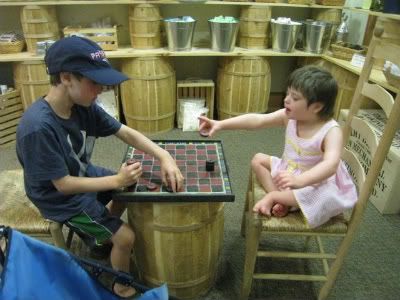 Sunset from our porch: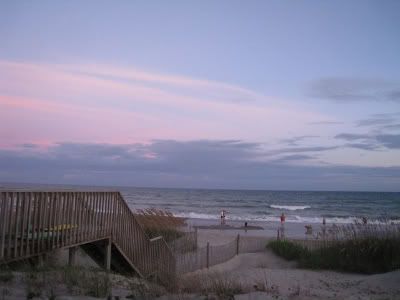 My new hat: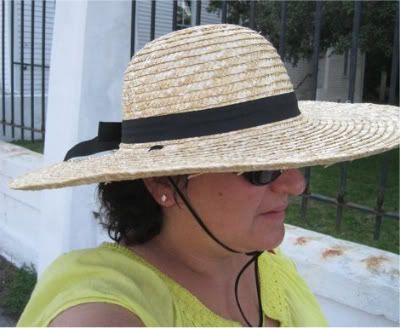 Tonight we went to the bumper cars and bumper boats place. Sofia LOVED driving with me, and had a lot of fun working the splasher on the boat:
Micah was upset that he had to drive with Daddy:
But he had fun on the boats: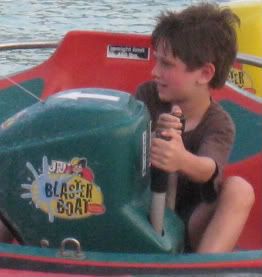 So did Sam: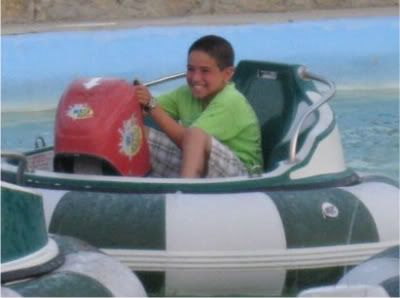 Tomorrow we are going on a small boat - just the 5 of us plus the captain - to ride around the bay and see the wild horses on Shackleford Island, and hopefully swim in the quieter waters.