Last night, we didn't eat dinner until after 9pm, but it was wonderful. We dined outside; Sofia and I set the table, and she did a lot of counting while we worked. Had to make sure we had 7 of everything.
Micah and Sofia went to sleep right after dinner, but Sam stayed awake with the grownups. The three "boys" watched Zombieland on Sam's iPad, while Agnes and I looked over New Zealand information. I finally got to bed after midnight.
And of course was woken up at 6am by my bouncy younger children. Cereal, coffee, and a movie on the laptop. I sat in the kitchen for most of the morning, working on the NZ itinerary (about time, huh?!). Micah played with the dog, Jade, outside, which was good for both of them. Sofia watched movies and TV and played. Sam started writing his thank you notes for Bar Mitzvah gifts.
Eventually we got dressed and out of the house. Headed to the "Old Faithful" Geyser: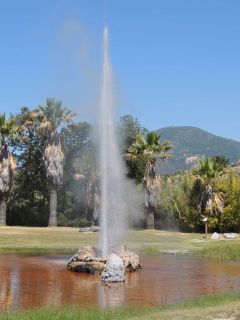 (The blue on Micah's cheeks is a zinc stick):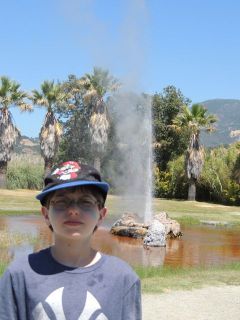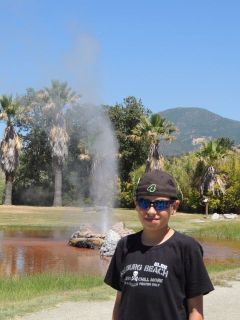 Sofia insisted on bringing her baby doll with her, because it was "sick"! Poor baby - this one we call "Boneless Baby" because the sound box was mysteriously removed. Ugly Baby stayed in the car.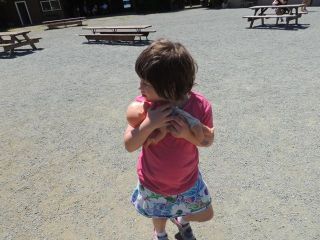 Adam's preferred method for carrying Micah: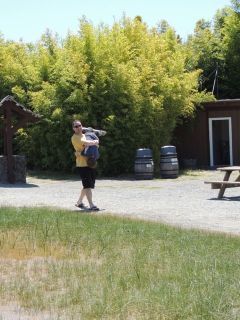 There was a little area of goats and llamas, too: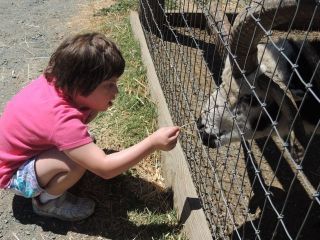 After the geyser, we went to the Petrified Forest, but my kids were grumpy and hungry: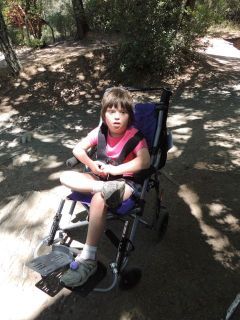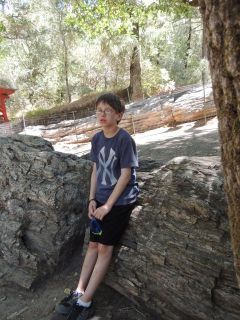 Sofia hitched a ride on Adam's shoulders for the places where David had to carry the wheelchair: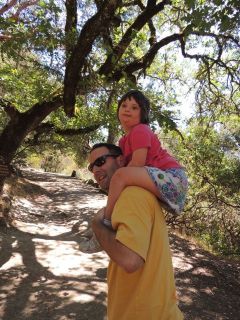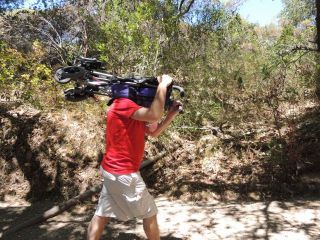 After the Petrified Forest, we went back to Calistoga for lunch and ice cream. My darling children: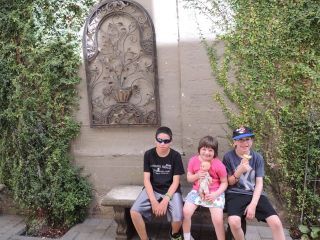 We packed up, said goodbye to our wonderful hosts and headed south to San Francisco. We managed to get to our dinner appointment only a few minutes late. The ride in through Berkely was lovely: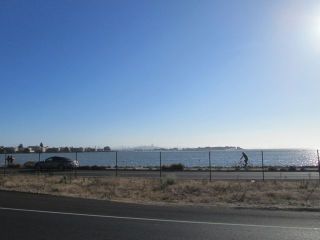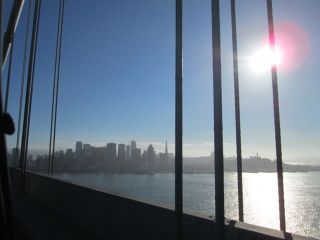 We met my cousin Eric, his lovely wife Alilda, and their gorgeous sons, Jake & Mickie, for dinner at a Paella restaurant. The kids had fun - after they finished eating, the boys went outside (supervised by Eric) to throw pop-caps on the street and make lots of noise.
We're settled in to the Marriott near the SF airport now. Sam refused to share a bed with his brother, who has been MUCH too bouncy today, so Sam and David have one bed and I get to share with Sofia and Micah.