Well, I'm sick again. With another "lingering" illness. This time, it's the virus that makes you cough so much your ribs hurt. Slight ear infection, but not enough for antibiotic. Just sudafed, mucinex, saline, cepacol drops and albuterol inhaler. And a whole lot of tissues.
Of course, this stops me not in the slightest.
Thursday I kept Micah home from school because the pollen count was making his allergies sooo bad. We basically stayed indoors all day, and he was fine. I took the two of them to get haircuts before we picked up Sam: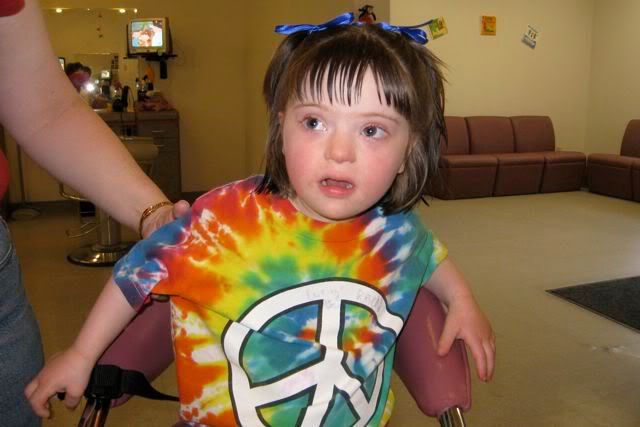 We stayed at the playground for an hour, and poor Micah was a wreck. Shower immediately at home.
Friday, we had our neighbors over for Shabbos dinner, and that was a lot of fun. They have a little girl, almost 3 years old, who is friends with Sofia. The kids all got really rowdy with David, although then Sofia got very upset. She kept trying to make them stop and they wouldn't listen to her. I had to take her outside for a while to calm down.
Saturday we went to shul, but that's when I started feeling yuchy. I spent most of my time in the playroom with Sofia (no babysitting).
In the afternoon, some friends from NY came to visit, S and his new wife. I was glad they agreed just to come over instead of trying to find some place to go (they were in town for a family event). It was nice, because we just hung out and the kids could play around us.
Sunday I really felt yuchy again. David went to work for a while, then we all drove in to Boston to meet my sister and her family at the Museum of Science. We had a nice time (although David had a little hissy fit and wouldn't come into the museum with us - he and Sofia stayed in the free areas).
After a few hours at the museum, we went on a Duck Tour. These are fun - they are old World War 2 multipurpose vehicles, and they tour the city and then go into the Charles River. In the river, the kids get a chance to drive:
Micah: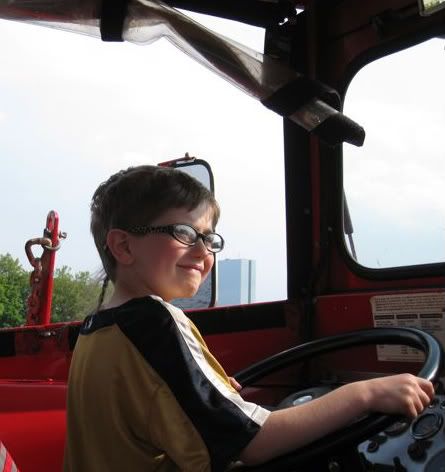 Sam: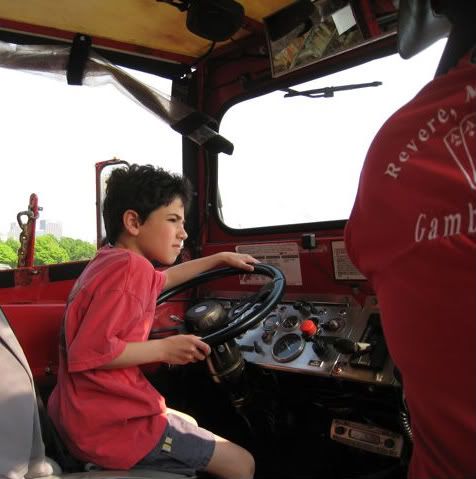 Sofia slept on my lap clutching me the whole time, and just woke up for the "boat" part:
After the tour, we walked to Fanueil Hall. Here are the boys with my nieces: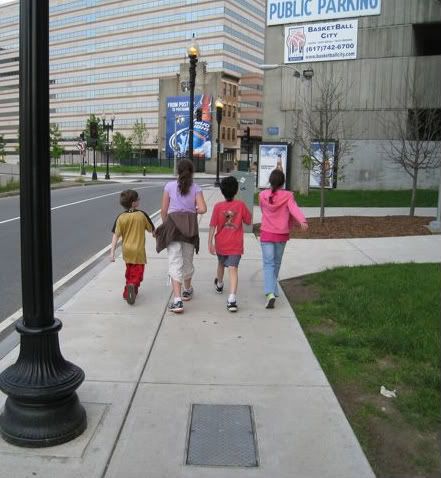 We had dinner and then walked around and got some dessert. The kids all posed for pictures: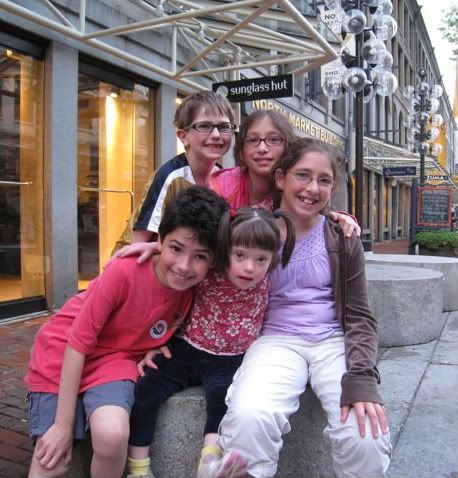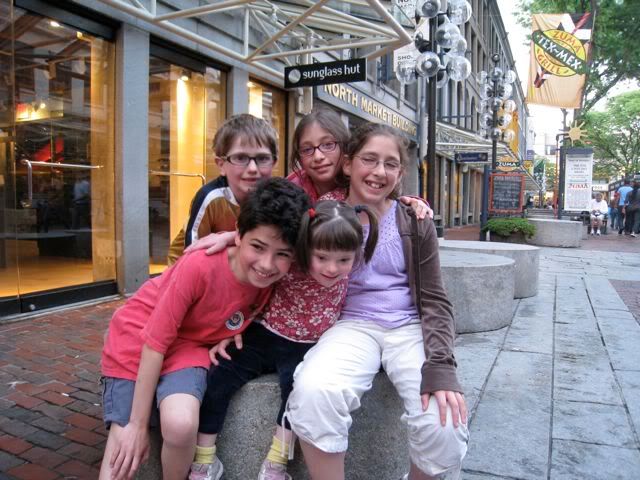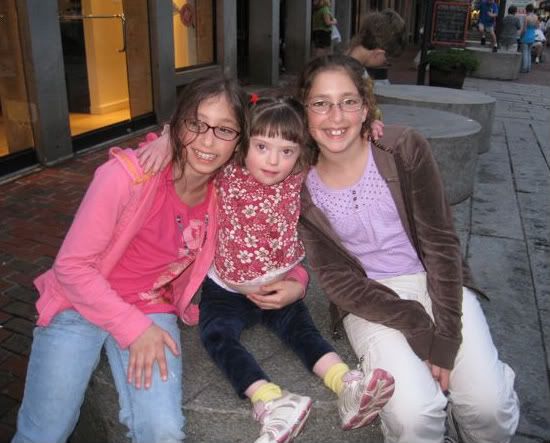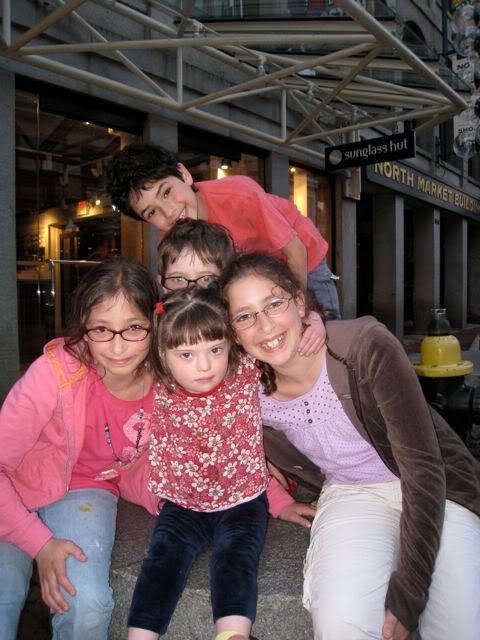 And then Sofia led them in a rousing dance marathon (the restaurant we were sitting outside of was playing some 80s disco music!):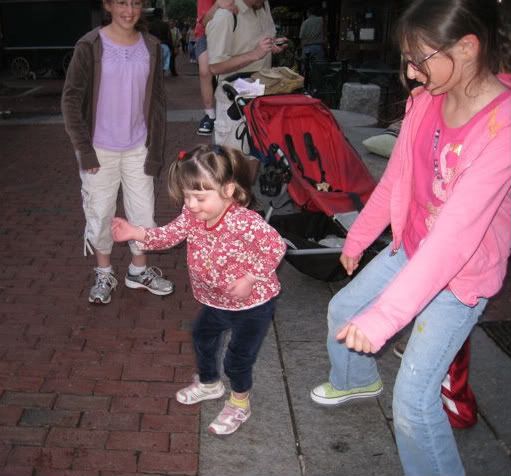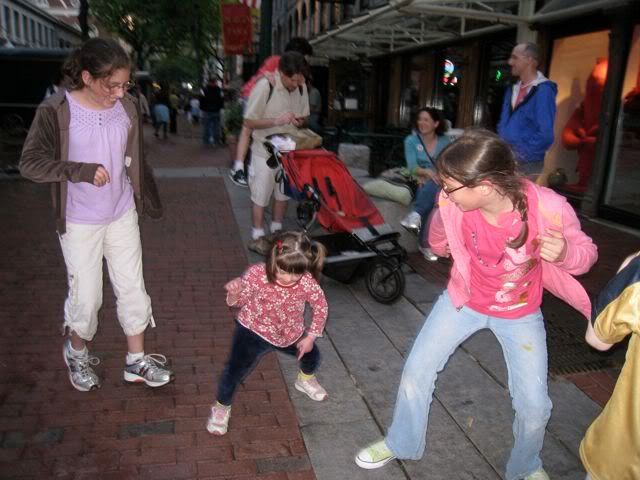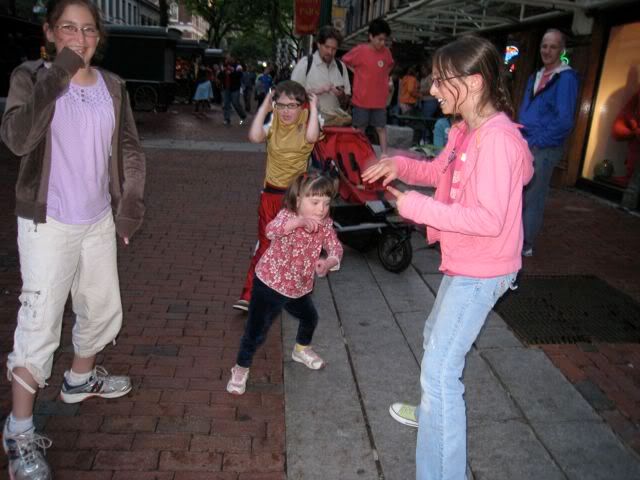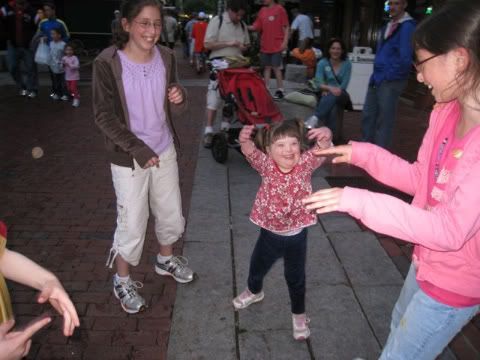 It was a lot of fun!
Today, I went to the CVS clinic in the morning to see the nurse. Not much to be done, but I stocked up on meds.
Took Sam to a birthday party, and then took Micah and Sofia to the pool club for the first visit of the summer. It's going to be a very long summer, chasing her around! The water was still very cold, so we didn't stay long.
Picked up Sam, drove until Sofia fell asleep, and then the boys watched movies while I took a nap. I have to go wake her up now. We should be going across the street for a barbeque; hopefully David will come home from work soon.