Micah's class had Family Tree day this morning, and it was really sweet. They each made trees (out of paper towel rolls, with lots of photos), and had displays about their families.
But the coolest thing was that we actually got a good picture of all 5 of us: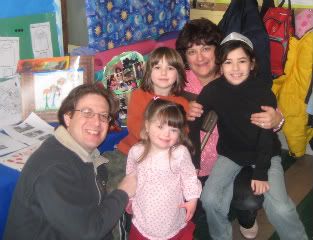 Let's see, what else... Just really really busy. The bathroom is done, and I got more decorative stuff today, like a shower curtain and trash can. Very cute. I'll post a pic eventually. The front door is in; they will paint it tomorrow. My house is otherwise a complete mess, but the cleaning ladies come Friday. Whew.
Saw a film during class tonight, "Renewal", about 8 different projects by a variety of faith-based groups to deal with environmental issues. It was interesting. If you have a chance to see it, I do recommend it. But I'd much rather DO than DISCUSS. So I get a little depressed seeing all the problems.
Oh, last night was quite funny. I'd gone out to dinner with a friend, and when I got home at 9:30, Miss Sofia had a massive BUZZ going. She was zooming around the house like a madwoman. Could not settle on anything. The Pulmicort was definitely rushing through her. It was a lovely evening, and she kept asking to go into the car, so eventually I did indeed put her in the car, in her carseat, and I sat with the door open singing songs to her until she calmed down enough to try to go to bed. I was signing and singing or reciting a bunch of Sandra Boynton stories and songs!