Today the Early Intervention center had it's Spring Social, and Sofia and I went to say hi to all our friends. She'd just fallen asleep when we arrived (despite me blaring loud music and shouting "Stay Awake" in the car!), so she was a bit groggy when we first got there, but she quickly got into the swing. She gave giant hugs to K and T, her Speech Path and Development Specialist, and hi-fived everyone. My girlfriend M was there with her lovely ladies (including her adopted daughter, whom I had not yet met - I'm in LOVE - this tiny little being ran right over to me and gave me the hugest hug and cuddle, as if we'd been old friends!). M's older daughter was so excited to see Sofia; we'd just had a play-date a few weeks ago.
Sofia had a blast exploring each of the rooms. We spent many many hours over her first three years at this place, and we know all the toys so very well. This picture is for John (you'd better comment, boy!):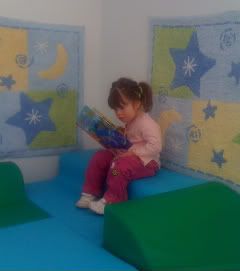 We used to meet in the Baby Room every week, and Sofia would wedge herself into this corner with a book. Now she's SO HUGE!
Anyway, it was very fun to see everyone. T is excessively pregnant, but I'm so glad we got to see her and meet her lovely little daughter.
Let's see, in other news, I've just spent far too many hours working on the Yearbook. I'm having fun, but it's midnight already!
Miss Sofia did NOT want to go to sleep, and eventually spent quite a bit of time trashing my room while I typed. She's finally out now, on her couch. I have to move her to the crib before I fall asleep.
My front door has been painted, second coat going on tomorrow. And the contractor is fixing my bathtub tomorrow (the drain broke last night), and we discussed my revamped renovation plans, so now he has to go back to the drawing board (literally).