Micah-ism of the day:
They don't call me Mr. Something for nothing!
We survived the last week of summer vacation without too much trauma. Aside from my own angst about the family that's leaving the school (see previous posts) and about my bike getting a very SLOW tune-up at Dicks (note to self, make sure to only deal with Mike or Ben in the Bike Department, since the others are jerks), we had fun.
Today I took the kids - by myself - to the Southwick Zoo. I think we've hit a milestone: the boys are old enough now that I can manage all 3 by myself without too much trouble. Sofia mostly stays in a stroller, and when she's running, the boys are basically helpful about chasing her.
We had a really nice time. I love this particular zoo (and I generally don't like zoos), because it has a Deer Forest, where the deer are running around with you. It's very peaceful.
One thing I did notice, though, was that Sofia seemed to be the ONLY person with DS in the whole zoo. I kept looking, as I usually do, but it felt odd.
Sam showing Sofia a wallaby:
I could NOT get Sofia out of the Petting Area. She had a blast feeding the baby goats and pigs: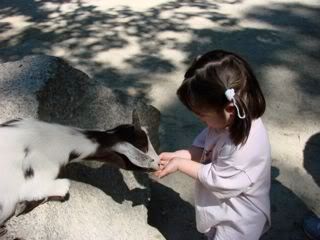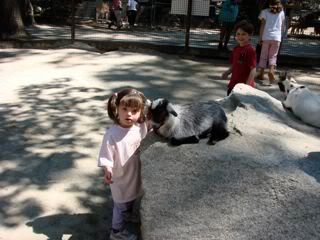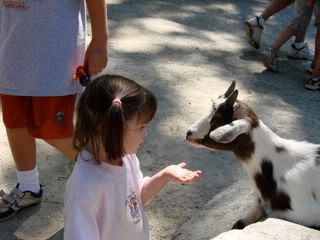 Of course we stopped for ice cream: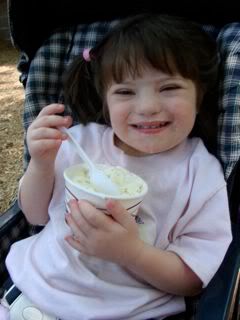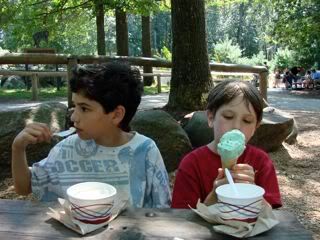 Sam took my picture: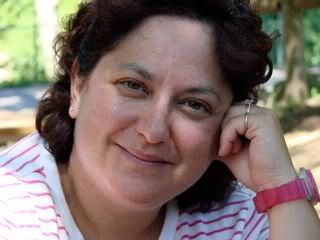 More feeding, this time the deer: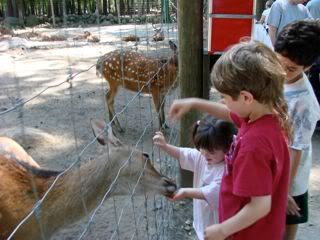 Sam and Sofia in the Deer Forest (why do I like back-shots so much?)
Micah coaxing Sofia onto the slide - first she has to swing:
After the zoo, we went to the pool for a while. Sofia fell asleep in the car and stayed asleep in her stroller the whole time we were there, so it was nice and relaxing. Then, since it was still early, I took the kids to Bugaboo Creek, since our babysitter E works there. It was fun to see her in action (she's terrific there, too!). And we got home early enough for baths and everything.
Of course, Miss Sofia is still wide awake. Her tummy is a bit gassy, so it woke her up. David came home from a week in Miami (doing an audit) around 9:15, so she's cuddled up with him now watching TV.