Happy New Year, everyone.
Rosh Hashanah
was this weekend, a very festive and wonderful time of the year.
Thursday afternoon was the day school's annual
Tashlich
ceremony. It's alwasy a lovely time. We gather at the school, and after a brief story for the kids, we all walk down, in groups, to the park nearby. The kids write their wishes for the new year - things they are sorry for, things they would like to change int he coming year. We symbolically cast our sins into the river (in the form of bread crumbs). And every year, it's been wonderfully lovely weather.
Friday the boys did not have school (it would have only been a half day anyway because everyone needed time to prep for the holiday), but Sofia did. So I let the boys watch the Scooby Do movie that they had taped last weekend and relax in the morning. The cleaning ladies arrived after Sofia was done, which meant she got the thrill of helping them/supervising. She LOVES "helping" the cleaning ladies.
Once they left, I was able to start cooking. The Trader Joe's near us has just started carrying kosher brisket, which meant I just HAD to make a brisket. Tasty - but tiny I had to figure out how to make a 2.6 pound brisket, when all my recipies are for 13-14 pounders!
Anyway, due to the smaller size, I also made...London Broil, a Turkey breast, and chicken soup (which meant soup chicken). And rice and asparagus. And I had made honey cake, and bought some other tasty cakes.
While I was cooking, my neighbor and her daughter, who is Sofia's buddy, came over to play. The girls were SOOOOO cute together. They were really playing together, not just parallel play. They kept pretending one was the baby and one was the mamma.
Right after they left, my sister-in-law and niece arrived. My gentle, baby-loving daughter somehow turned into a
brute
, and kept knocking Lilie over or pushing her or otherwise making life miserable for her tiny cousin.
My friend C and her husband and 2 sons joined us for dinner, which was nice, since I don't get to see them too often. I had to rush out after dessert, because I had to be at "my" shul, Sha'arei Shalom in Ashland, where I am the Cantorial Soloist for the holidays. Sammy came with me (dressed in his suit; VERY handsome), and David and Laura and the other kids arrived about 30 minutes late (looking like 5 clones of varying sizes - they all look very much alike).
Service went well. I was totally NOT ready, but once we started, the rabbi and I got into a good groove. I love working with her. She's a wonderful person.
Home by 9, clean up and go to sleep. Saturday morning, got all the kids fed and dressed, and I left for services. David took the rest of them to Temple Israel, as usual. My service went very well. We finished at 12:30 on the button! Lunch was at friends', which was lovely. Got home fairly early because Micah and I were having allergy attacks. Grown-ups took naps, but kids didn't, so mommies had to wake up.
More services today, but this time I was NOT working at Sha'arei Shalom. Budget cuts, I was only hired for two out of three days this time. So I got to go to TI for the first time since Micah was born. It was nice. We sat in the tent. After services, we walked over to our friends house for our annual holiday meal together (I've been going to their house since before I met David!). And after lunch, we (well, not David and Sofia and the husband and the grandmother, who all napped instead) walked over to the river for the Tashlich service. TI and Chabad are right near each other, so it is a nice opportunity for the two communities to get together (we have a lot of cross-over).
So here we are. Laura and Lilie are already back in CT, the boys are asleep, and Sofia, who took a very long nap, is watching football with David.
Ok, other thoughts: a few days ago, some of my DS friends posted a link to the Sceptical OB, a doctor who questions whether we should be sad about the possibility of DS disappearing because of earlier prenatal testing. I don't feel like linking back to her blog. But one section struck me. First she quotes Dr. Brian Skotko, who is a major DS supporter and leader in the Mass DS community.
Skotko: ...Parents who have children with Down syndrome have already found much richness in life with an extra chromosome. Now is the time for the rest of us to discuss the ethics of our genetic futures.

SOB: Richness? The use of that term is patronizing to both parents and to people with Down Syndrome. It is patronizing to parents because it implies that the lifelong burden of caring for a disabled child should be perceived as "enriching." It is patronizing to people with Down Syndrome by suggesting that their primary value is to enrich the lives of others.
HECK YES! Isn't that ALL of our primary value - to enrich the lives of others?????

I found that the few commentors who agreed with the SOB tended to agree specifically with this section. Which I found more upsetting than any discussion about Trisomy 21.
It's all related. On Rosh Hashanah, we talk about
tefillah, teshuvah,
and
tzedakah
- prayer, repentance, and charity, which is also called
tikun olam
/repairing the world. We each of us have the responsibility to care for each other, to care for our world. To enrich the lives of others.
Just because it may be easier for people with DS to enrich the lives of the people around them, does not make them less valuable. Less individual. Less worthy.
And when it comes to a "lifelong burden" of parenting, I don't remember anyone telling me that parenting was ever a temporary job. As far as I can tell, a good parent remains a parent all their lives. And sometimes it's not easy.
If I had to pick which "issue" I would rather do without in our house, first thing to go would be the Allergies, both food and environmental, for all of us (food for Micah and Sofia, environmental for Micah and me). Second "issue" I would ditch would be mental issues like Sam's OCD and anxiety and mine and David's depression. These things really impact our daily lives, and make me worry.
Learning disabilities - both Sam's and Sofia's - would be next to go. But I don't feel that the learning disabilities make as much of an impact on our lives as the allergies and mental issues. They are learning "differences", and my children will learn ways to learn, ways that work for them.
So that extra chromosome would be the last of our major issues that I would wish to get rid of. It isn't going to kill her. It isn't going to make her sick. It IS going to affect her life. But that just means her life will be
different
. Not better. Not worse. Different.
Ok, enough. Here are the pictures!
Sofia and Lilie taking a bath: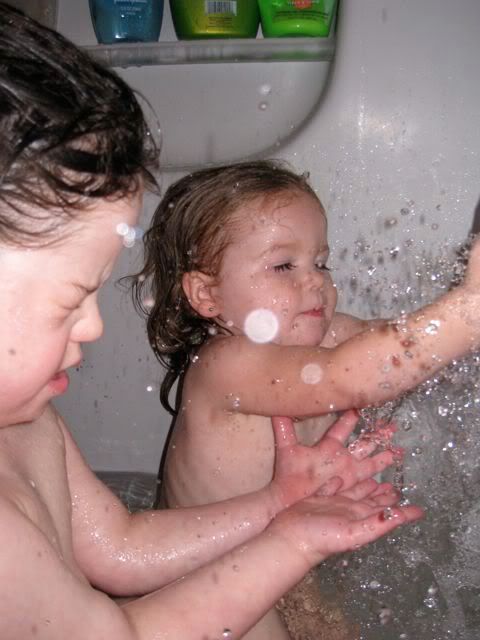 and then all dressed up for shul: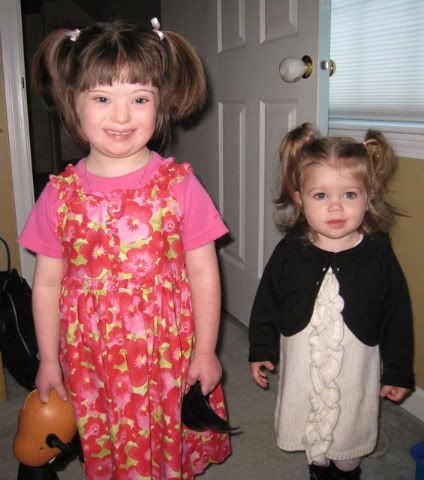 Thursday, Sammy and Micah blowing shofar at the school's Tashlich ceremony: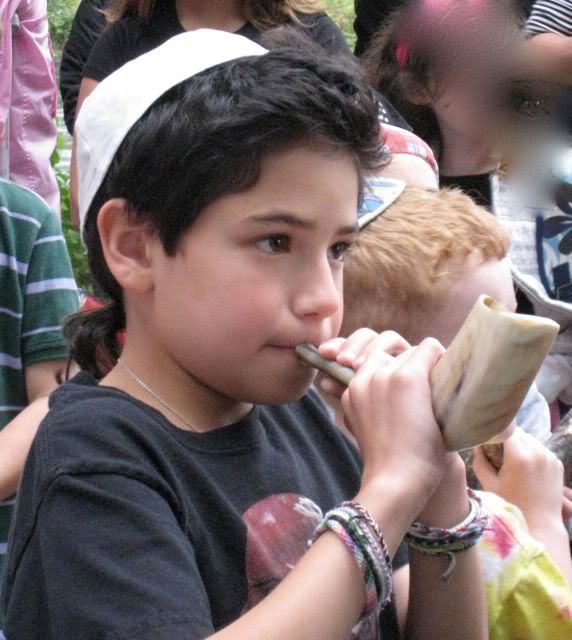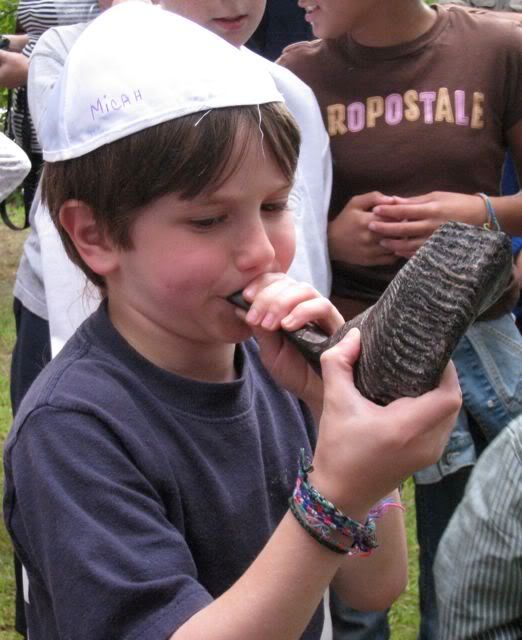 And the Rothkopf Family Rosh Hashanah card for 5770: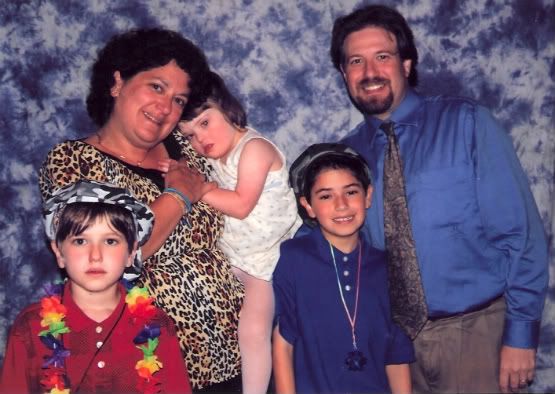 A Happy and Sweet and Healthy New Year, y'all!