David and I went to Boston last night, for J's "surprise" birthday party. It was at the EMC Suite at Fenway Park! Way cool (I guess if you like baseball it was even cooler, but I was just impressed with how nice the room looked).
The party was so much fun. Open bar, which meant we all relaxed (especially those of us staying overnight in the city!). It was also really fun to see all the day-school couples as
couples
, not as parents. You could really see why each of these couples was together. I was talking to another friend, D, about it, and she spoke about how we all married our best friends. True!
Here are me and my best friend: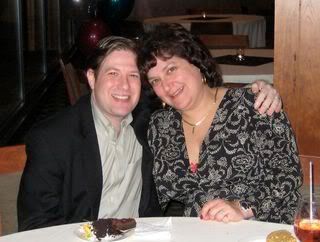 After the party, about a dozen of us went across to Boston Beer Works. French Fries and Beer at midnight (after an evening of French Martinis and Raspberry Mojiotos!). Ouch. My tummy was killing me when we got to the hotel!
The Taj was lovely. They didn't do a ton of renovation after taking over from Ritz, but they changed the color scheme on the rugs, curtains and bedspreads, to a lighter blue/green. It was very pretty. Comfy bed, small but nice bathroom.
We sort of slept late, although the phone rang at 8:15 briefly (no one there), and it was horribly DRY in the room so we were both having a bit of breathing trouble.
Eventually we checked out, and met the birthday girl and her family and D&E for brunch. Then we had to race home, because my parents wanted us home by 2 so they could get to the party they had tonight (at 7pm!).
Hung out all afternoon. Nothing much. Kids were all pretty tired, too - Sofia went to sleep at 6:45, and the boys were snoring by 7:30.
Oh, my parents bought Sofia her birthday presents. The wrapped packages were from my sister (a pretty sundress and a cool puzzle), and the Dora Table was from my parents. You can see which one caught Sofia's attention: